User:Noahcs
From The Lion King Wiki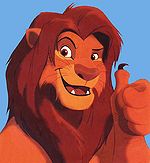 Hello! Welcome to my user page. My name is Noahcs.
About me
I love all things Lion King.
I used to be a wiki administrator
Research
If you need any research done or want me to look into something, I don't mind at all. I actually find it fun. I have access to several newspaper archive accounts that the public does not. Feel free to contact me if you need access to something.