The Lion King 1½ Original Soundtrack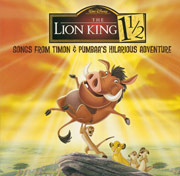 Songs from Timon & Pumbaa's Hilarious Adventure
Release Date: Feb. 3, 2004
Total length: 22:47
Short Review
Disney's penchant for quickie, video-only sequels to its animated features has earned the studio its fair share of criticism. But the soundtrack to the Mouse House's latest small screen follow-up to its classic The Lion King deftly dodges the chronic sequelitis that has undermined similar efforts. Reworking the original's "That's All I Need" and "Hakuna Matata" for star Nathan Lane's turn as the antic meerkat Timon (assisted on the latter track by the stellar vocal harmonies of Ernie Gabrell, Jason Weaver and Joseph Williams) casts both in an energetic new light. Elsewhere, the emphasis is on vintage r&b covers infused with contemporary production sheen (Raven's slinky take on Ramsey Lewis' "Grazing in the Grass," The Tokens' "The Lion Sleeps Tonight" by Lebo M, Drew K. & French's faithful take on Kool and the Gang's "Jungle Boogie"), performances that give the project a familiar, inviting aura for kids of all ages. Composer Don Harper rounds the collection out with a selection from his original orchestral score and a remarkably faithful take on Morricone's classic theme to The Good, The Bad and the Ugly.
Jerry McCulley, Amazon.com
Album Tracks
Click on a song title to learn more about the song and read its lyrics. Hover your mouse over the performing artist to view the full list.
| | Song Title | Performed by | Time |
| --- | --- | --- | --- |
| 1. | | Raven | 2:58 |
| 2. | | Lebo M. & Vinx | 3:53 |
| 3. | | Nathan Lane | 2:29 |
| 4. | | Nathan Lane, Ernie Sabella, Jason Weaver, and Joseph Williams | 3:32 |
| 5. | | Lebo M. | 3:35 |
| 6. | | Drew K. & French | 3:20 |
| 7. | | Don Harper, Lebo M. | 1:19 |
| 8. | | Ennio Morricone | 1:41 |
Links
[ « Back ]