Return To Pride Rock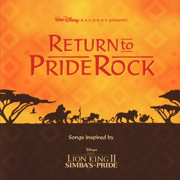 Music inspired by The Lion King II: Simba's Pride
Release Date: Sep. 8, 1998
Total length: 41:21
Short Review
To answer your question: no, there's no "Hakuna Matata" here. (Did you really expect one to accompany this straight-to-video sequel?) But that's alright. Ladysmith Black Mambozo (on two tracks), Angelique Kidjo (who contributes the album's best original song, "We Are One"), and a duet between Kenny Lattimore and Heather Headley account for the starpower here, and all are strong. But the real essence of this collection is the African-flavored pop of tracks like "I Want to See the Moon," on which both your children and yourself might be introduced to some great new sounds. (There's a great, if slower than you'll be accustomed to, version of "The Lion Sleeps Tonight," too.) As both a soundtrack and an introduction to an entire sound, Simba's Favorites is a success.
Randy Silver, Amazon.com
Album Tracks
Click on a song title to learn more about the song and read its lyrics. Hover your mouse over the performing artist to view the full list.
| | Song Title | Performed by | Time |
| --- | --- | --- | --- |
| 1. | | Lebo M. | 3:07 |
| 2. | | Cam Clarke, Charity Sanoy, Ladysmith Black Mambazo & Chorus | 3:45 |
| 3. | | Robert Guillaume, Liz Calloway, Gene Miller & Ladysmith Black Mambazo | 2:54 |
| 4. | | Chorus | 2:40 |
| 5. | | Suzanne Pleshette, Crysta Macalush, Andy Dick & Chorus | 2:54 |
| 6. | | Liz Callaway, Gene Miller & Chorus | 3:00 |
| 7. | | Angelique Kidjo | 4:10 |
| 8. | | Lebo M. | 3:55 |
| 9. | | Lebo M. | 2:31 |
| 10. | | Lebo M. (featuring Sharon Dee) | 4:20 |
| 11. | | Lebo M. | 3:35 |
| 12. | | Kenny Lattimore & Heather Headley | 4:30 |
Links
[ « Back ]