The Lion King: Simba's Mighty Adventure
From The Lion King Wiki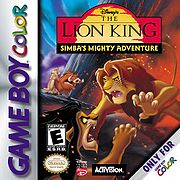 The title was published by Activision in 2000, and was released on Game Boy Color and PlayStation. Unlike the previous The Lion King video game, it adhered more closely to the events in the film and the storyline carried on into The Lion King II: Simba's Pride with Simba having to rescue his daughter Kiara and battle Zira.

This game was the only console-based platform game to involve The Lion King II: Simba's Pride. All other games based on the title were educational or puzzle games and were released on the PC. Like most of the Disney games of the time, it contained film clips, and third-person gameplay.
Gameplay
The game's gameplay varied between the two consoles.
Game Boy Color
The game is mostly a side-scrolling platform game with occasional levels where the camera is top-down. The gameplay is very similar to the first The Lion King video game, in which the player takes control of Simba and must leap and run between platforms while fighting enemies and avoiding pit-falls. During levels Simba can collect star-shaped tokens which add to the overall score.
PlayStation
Due to the PlayStation console's 3D graphics capabilities the gameplay became slightly more varied. Simba's capabilities are identical to the first The Lion King video game in which he can roar, leap, roll and run. During levels Simba has to collect a minimum of 100 coloured paw print-marked tokens before progressing to the next level.
Graphics and sound
Game Boy Color
In the Game Boy Color version of the game there was only one piece of music used on every level. Some of the animation for both adult Simba and cub Simba was recycled from the previous The Lion King video game.
PlayStation
In the PlayStation version voices, music and sound effects from the film were used. Clips from the film are placed between levels. (although the characters of Simba,Scar,Nala,Banzai Shenzi and Zazu were dubbed by Cam Clarke, Jim Cummings, Vanessa Marshall, Rob Paulsen, Tress MacNeille and Jim Piddock).